For qualified sailors, chartering bareboat for a day on the bay or overnight, offers the ultimate freedom. Go where you want, do what you want, explore, snap moments, join in the festivities ashore or slip away from everything on a remote beach…
To get you started:
Choose the boat below that best suits your voyage.
Fill out the form below and we will get back to you as quickly as possible.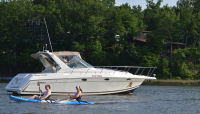 34' Formula Cruiser Motor Yacht - Rates from $150/h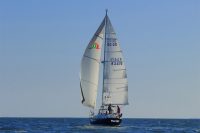 43' Center-Cockpit Sailboat - Rates starting at $125/h
20' Wellcraft Bow-Rider - Rates as low as $125/h
Irie Vibes Pricing
1/2 day: N/A
Full: contact us
Overnight: N/A
Fits up to 10 people. Sleeps 6.
Therapy Pricing
1/2 day: $600
Full: $800
Fits up to 10 people.
Tallawah Pricing
1/2 day: $550
Full: $950
Fits up to 6 people (overnight unavailable)
Bareboat Charter Inquiry Form
Please complete the following form to indicate your interest in a bare boat/overnight charter from Island Chill Yacht Charters.