Watersport Fun Activities All Day!
Surf out of the Londontowne Marina on any of our kayak, paddleboard (SUP), waterski or water tube. Rent equipments alone or rent along with your charter and visit secluded creeks.
For visitors that love a little adventure, a tour of the Chesapeake may be the perfect getaway. The bay has some of the most beautiful and romantic waterways, waterfront properties and tributaries.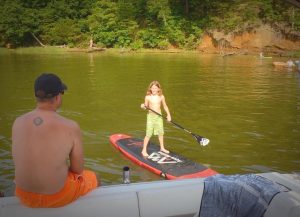 Watersport Aboard!
Free paddle boards for guests who book half, full day or overnight cruises aboard any of our sail or powerboat.
Adventures for Couples 
For the couples that love a little adventure, a kayak and paddle board tour in Chesapeake Bay & South River shoreline may be the perfect getaway.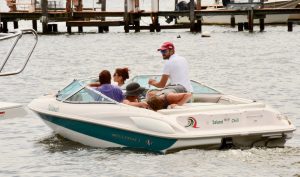 Bring your picnic basket & enjoy cruising, anchoring, swimming. Guests  who rents waterskiis, water tube... also rents:  Tallawah 20'  bow-rider
Island Chill AquaShop
Aquashop offers everyone an opportunity to have fun on the South River and entrance to the Chesapeake Bay. Rent any of our Watersport equipment and get even more from your cruise and enjoy touring the bay!
Watersport Rental Prices:
| | | | |
| --- | --- | --- | --- |
| Equipment | Hourly | Half Day | Daily |
| Single Kayak | N/A | $25.00 | $40.00 |
| Kid Paddle board (inflatable) | N/A | $25.00 | $40.00 |
| Adult Paddle board (inflatable) | N/A | $25.00 | $40.00 |
| Couples Kayak / Paddle board (2 each) | N/A | $40.00 | $70.00 |
| Water-tube (inflatable) | N/A | $25.00  | $40.00 |
| Hot dog (3 persons)  | N/A | $25.00 | $40.00 |
| Waterskii | N/A | $25.00 | $40.00 |
*To rent water skiis, tube, hot dogs on Tallawah 20' bow-rider, renter please read below.
There may be a brief sea trial to be performed and waivers for Tallawah Bareboat RentalTallawah Bareboat Rental

 

with release of liability & assumption of risks, cc info and safety tips. Please read and sign the necessary forms before the charter. Download Rental Agreement, Release of Liability & Assumption of Risks here. PDF-2019
Please note that there is a supplemental Boat Insurance charge of $50 per charter on Tallawah 20' bow-rider.
Fuel surcharge: Watersport rentals & towing on Tallawah 20', renters responsible for fuel cost with an additional fuel surcharge of $100 or renter uses Londontowne Marina.


There is a Damage Deposit of $500 to cover the deductible in the event of an insurance claim. Deposit is fully refunded at the end of charter after the boat has being inspected and there are no damage claims to be filed.  

Waivers, rates & insurance will  be collected  at the marina by assigned Island Chill staff. 
Before You Rent / Book…
In order to help us tailor your trip to suit your needs, please have in mind the following information:
Which Watersport you would like to rent?
How large is your group?
What date do you have in mind?
How long would you like to rent equipment? half / full day?
Time that best suits you? 8:30am - 12:30 / 1 - 5 p.m / 5: 30 - 8:30 sunset
For full day cruises please call for available time slots.
Unlimited Season Pass
Enjoy unlimited use of Kayaks, Inflatable Paddle boards, or Waterski at Aqua Shop.
Use your Pass anytime during regular business operating hours.
Advance reservation required.  Simply call to reserve.
Please remember the Season Pass may only be used by the named owner.
Bring your friends and they will receive $5.00 off of their equipment rental.
Unlimited Season Pass Price – $100
(non-transferable, good only for individual pass holder)
Bonus Card
Rent from us nine times and receive a free rental on your tenth visit.  Ask for the Bonus Card.  Be sure to have it punched each time you visit Island Chill Aqua Shop.
*Please note that your signature is still required on the Sign In Rental Agreement before leaving the dock.
Group Reservations
Please call (410) 212 - 4476 for pricing and availability.
Download Rental Agreement, Release of Liability & Assumption of Risks here. PDF-2019