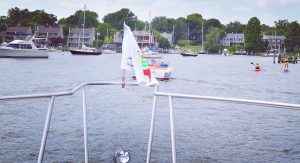 Did you know that Annapolis was established in 1649 and popularly known as the 'Sailing Capital of America'? And since then it has been a fascinating town for families and tourists to visit.
The beautiful city of Annapolis often gets unnoticed in favor of its larger cities like Washington, DC. and Baltimore, But there are so many fun things to do in Annapolis, Maryland. Annapolis stands as an ideal waterfront fun location, home of the U.S. Naval Academy (no less!) and a perfect State Capital. Here, you can sail and powerboat, feast on our famous Chesapeake Bay blue crabs, taste delicious wines and tune into the history of mid-Atlantic America. Our Spring comes alive with flowering trees, migrating birds and warming breezes, while our summer becomes a magical vacation opportunity.
1) Tour historic lighthouses
Chesapeake Bay is famous for it's unique styled lighthouses: Sandy Point Shoal Lighthouse, Bloody Point Bar Lighthouse,  Sharps Island Lighthouse & the famous Thomas Point Shoal Lighthouse. Build in 1875, Thomas Point stands at the entrance to the South River and looks like an old-fashioned cottage lost in the middle of the Bay, and probably the one of the most photographed lighthouses in America.


2) Birds-eye view of the Bay
View the shores of the Chesapeake Bay, departing Lee Airport, in Edgewater. You will head south toward the Thomas Point Shoal Lighthouse, Bloody Point and Poplar Island. See tributaries and rivers, bridges, trees, wild-life refuges and shorelines. Over to the Eastern Shore to see St. Michaels, Chestertown and Kent Island to follow the Chesapeake Bay Bridge home. Lee Airport in Solomons Island Rd, Maryland, offers year-round rides. (airplane view of Chesapeake Bay)
3) Spot rare species
The Chesapeake Bay watershed and Delmarva Peninsula is a Mecca for East Coast species because the the wide diversity in ecological environments: wetlands, swamps, forests, rivers, sand bars and mudflats, and fields. Bird watchers can see over 400 different species which gather several times a year during migration to scout the skies in places like Quiet Waters State Park and Kiptopeke State Park to enjoy the Eastern Shore Birding and Wildlife Festival.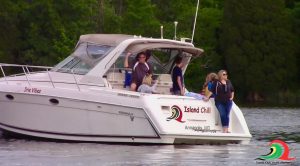 4) Take a Cruise on the Bay
Annapolis is considered the Sailing Capital of the U.S., located close to Baltimore, Washington D.C. and the gateway to the Chesapeake Bay Bridge. It's also the starting point for cruises on the Chesapeake Bay on your own chartered private yacht. Island Chill Yacht Charters offers 4 hr + "Mini-Vacational" cruises on its sail and powerboats for families, friends and co-workers, celebrating birthdays & anniversaries. Tour lighthouses, the Bay Bridge, wild-life refuges and waterfront restaurants. You can either be your own captain or request a personalized crewed charters.
5) Paddle through a preserve
There are many Natural Area Preserves close to the Bay, so paddle or kayak through any of these woodland, forested wetlands and extensive salt marsh preserves. These ecological communities provide habitat for a variety of wetland and coastal species. See waterfowl, shorebirds and waders forage in the salt marshes for crabs, mussels, fish and crustaceans. Snapping and diamondback terrapins, blue herons and rails are common on the mud flats, along with ospreys and bald eagles that fish the rivers and open Bay. Woodlands provide excellent nesting and foraging habitat for songbirds. warblers, orioles and other migratory birds that utilize the abundance of trees and shrubs to rest and replenish energy reserves before crossing the Chesapeake Bay.
6) Experience the Arts in Annapolis
Annapolis and Anne Arundel County are home to many fine art galleries – 25 of which are within easy walk distance within downtown Annapolis. There's also a thriving visual and performing arts community downtown too!. The Maryland Hall for the Creative Arts offers classes, hosts residency programs, and sponsors musical and performing arts events year-round, including performances by comedians and orchestras.
7) Watch the Blue Angels Display
Anchor in the Severn River right by the U.S. Naval Academy to watch the amazing Blue Angels perform during Commissioning Week on a private cruise experience. Acknowledge and honor the service of our United States Naval Academy graduates, as well as past and present members of the United States Navy and Armed Forces. There are two separate days to watch the Blue Angels and without doubt, it's one of the most memorable and impressive charters  Island Chill Yacht Charters offer!.