SHOOTS ON A YACHT IN ANNAPOLIS
Photoshoots, Commercials, Film Productions, Music Videos
It's no secret that Historic Annapolis and the Chesapeake Bay have breathtaking views. Book boat as venue for photoshoots, music videos, film productions and commercials. These vistas have always been a source of inspiration for photographers, filmmakers, adventurers and musicians that are looking to make an impression in their art with Chesapeake Bay's unique styled lighthouses, scenic shoreline landscapes, beautiful waterfront properties, the famous Chesapeake Bay Bridge and ships anchored in Baltimore Harbor.
WHY USE US AS A VENUE:
We will help you through the entire process of choosing the best boat fit for you and your team.
Spacious and luxurious boats with stern lounges great for shoots.
With your cruise director by your side, you will have a hassle-free booking process along with full assistance with the overall coordination.
Amazing backdrops: Lighthouses, waterfront properties, wildlife destinations.
UNIQUE VENUE FOR YOUR PROJECT!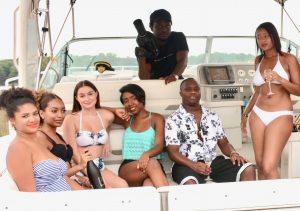 BOOK FOR COMMERCIAL
Do you have a product or service that you would love to advertise with a great waterfront back-drop? we offer beautifully designed yachts that are able to accommodate you for your commercial video filming.
BOOK FOR MUSIC VIDEOS
Looking for a different backdrop for your music video? Offer your clients & fans something spectacular by filming on any of our rental yachts.
BOOK FOR FILM PRODUCTION
Over the years many productions have been made in this unspoiled setting  and they can relied on our local services for their filming and transport.
BOOK FOR PHOTOSHOOT
Are you a photographer, model, do you have a product that you would love to photograph / advertise with a great waterfront back-drop? our sail and powerboats are available for rental.
Charter Package & Rates
Photoshoots Boat Rentals Mon - Thurs Sunrise 8:30 am - 8:30 pm Sunset
See Package, Boat Capacity, Rates & Damage Deposit Below:
Dock Shoot: Shoots are supervised & conducted at the Londontowne Marina - a great scenery and filming location - $124 per hour, 2hrs minimum. Up to 15 guests at dock + 6% MD sales tax and damage deposit.
Anchorage Shoot: Boat tour and views of South River tributaries & Waterfront properties - $124 per hour, 3hrs minimum.  ONLY 6 guests aboard while under sail/power + 6% MD sales tax & damage deposit..
Under Power/Sail: 

Shots of magnificent yachts under sail or power.
Boat tour and views of the South River, Thomas Point Lighthouse, Chesapeake Bay and Annapolis landmarks.
Our Fleet: Therapy 43' sailboat rates starting- $495 and Irie Vibes 34' powerboat - $585  3hrs minimum, $150 after
 ONLY 6 guests aboard while under sail.
+ 6% MD sales tax & Damage Deposit.
Cost of fuel and crew-hand is included in final price. Larger group than 15, please send msg.
Shoots on a Yacht Damage Deposit
For all photoshoots conducted on any of our boats, you will be required to pay a fully refundable Damage Deposit of $500, paid at the beginning of the charter. Deposit will be refunded at the end of each charter after boat inspection and if no damage claimed to be filed.
BOOK BOAT FOR YOUR PROJECT!
Before You Book... Want more information on shooting on any of our boats in the Chesapeake Bay & Annapolis area. and would like to check for availability, please complete the contact form below. We would love to facilitate your upcoming project!
Please state name, business, company, production or affiliate representation.
What date and time? sunrise/sunset rentals please send msg.
Yacht interested in renting? (Therapy / Irie Vibes / Tallawah)
Project type (Commercial, photoshoot, film production, music video)
Type of shoot package (Dock, Anchorage, Under Sail / Power)
No. of people in your group.
Whats your budget?
Download Yacht Photography Tips, Rental Agreement, Release of Liability & Assumption of Risks here and MUST be signed and brought to the charter along with CC info.