Book Me!!! Spend Time With Friends & Family 🙂
Half / Full Day / Sunset Cruises / Overnight 
Bareboat Rentals: You be the captain and enjoy time on the bay with your loved ones! 6 guests allowed aboard while cruising & max 4  for water sport activities. Before you book, please read 'booking, insurance & rules' and complete our 'TBIF' with your experience below.
Food Delivery: Order from our menu and have it delivered to the marina at the time of your rental with one easy click.
Learn to Sail: Want To Be The Captain? No captain license? Refresh and expand your boating skills with one-on-one instructions. Learn more...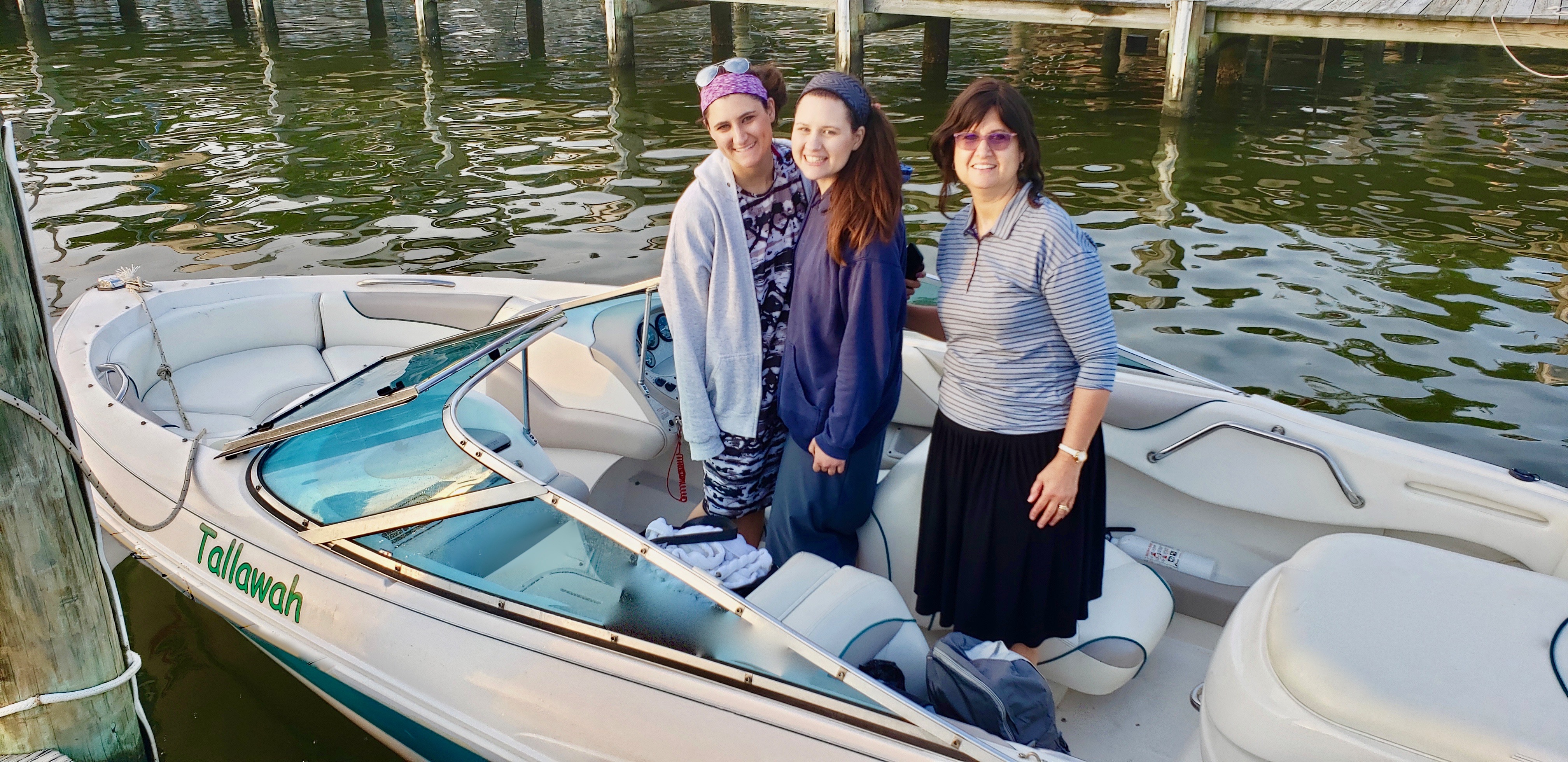 RATES
4hrs: $450
8hrs: $850
4hr Morn: $450
3hr Sunset: $450
 Free gas: Save $120
Fits up to 6 guests. Tows 4.
Booking / Insurance / Rules
Before You Book: Please complete our Tallawah Bareboat Inquiry Form (TBIF) with boat experience, and we will get back to you promptly.
After Booking: (A) Please read, sign and bring waiver with 'safety & assumption of risks' on the day of rental: Tallawah Bareboat Rental Agreement & Waiver - (TBRAW) (B) Bring government-issued ID along with signed (TBRAW). (C) There may be a brief sea trial and safety procedure to be performed at the marina at the beginning of rental.
RENTAL FEES & BALANCE:
Reservation & Cancellation Policy: A deposit of $100 is required to reserve booking (410) 212 4476 or booking paid in full here. Deposit is fully-refundable up to 7 days prior to rental. Please call at least 3 days prior to rental to pay balance, which is 70% refundable in the case of guests cancellation within this 3 day time window. Alternatively, rental deposit and balance can be applied to a rescheduled and available date and time at no extra cost. (See our Weather Policy & FAQs)
Boat Insurance: Following booking, all approved renter is required to purchase Boat Insurance: $50 (paid along with rental balance- fully refundable if charter is cancelled)
Damage Deposit: There is a $500 fully refundable damage deposit collected at the beginning of each rental and refunded at the end of the charter; after boat inspection and NO insurance claim to be filed.
Waterskiis / Water-tube Rentals: Rates below.

Skiis (1 pair kids) (1 pair adult): 1/2 Day - $25 / Full Day - $40
Tubes (inflated): 1/2 Day - $50 / Full Day - $90
See water sport equipments pics, restrictions and rates, here.

Fuel Surcharge & Maintenance: If Tallawah 20' is to be used for towing or waterskiing, there is a $100 fuel & maintenance fee. If a refill is needed, renter must use Londontowne Marina.
Docking & Boat Restrictions: No docking is allowed at any marina or restaurants. Guests can only anchor & cruise on the South River.
Capacity: Fits 6 guests comfortably, Max 4 passengers aboard for any water-sport activities.
Fishing: To fish each person must have their own Maryland DNR fishing license (required by law).
Captain: $150 - 4 /hrs.
Late Return: There will be a $100 per 30 min surcharge if guests arrives at dock 1/2hr after rental due time.
*Have Questions? Arriving back to the marina 15 mins before or 15 later than rental due time? Please give us a call for us to make rental & charter updates (410) 212 4476.