Families - Generations - Kids!
Families are one of our most frequent guests - everyone from four-generation families together, to parents with very young kids. It's a privilege to introduce youngsters to a new world of fascination, learning and fun! Half-Day, Full-Day and Sunset cruises are all ideal. Birthday celebrations, Graduations, Blue Angels, Lighthouse visits and Chesapeake Story Teller cruises add a dimension of adventure for a  'Special, Memorable Day'.
Adolescents
Here's a chance to watch your (almost) adult kids put down their cell phones, talk to you in sentences not single words, and notice the real world! And what a world it is - so different from their school, bedroom, basement and video games. Do them a favor - and yourself - and bring them along - friends too! Our favorite questions to ask are: 'How can a sailboat sail into the wind...?'; 'How did sailors figure out where they were in the middle of an ocean...?', and 'If we had enough food and water aboard, we could go anywhere on earth: Where would you like to go...?' The adventure and excitement of cruising, seeing nature take its course, watersport activities with Paddleboards and fishing, and the chance to see their cool parents having fun too. What's not to like!
CHILL-dren!
We love taking out families with young children! Our sail or powerboat charters are a new experience for young minds that opens a special world to explore, understand and learn how to have fun. They quickly adopt the idea of accomplishing a journey with new destinations - a perfect metaphor for life! And parents are young enough to experience that too...
From a kids safety perspective, our sail and powerboats are both large and stable, and we always have kids under 13-years old wear lifejackets and tether them to the mast or superstructure - parents too, when needed (!). Let us know the size of your kids so we can fit them into the right safety gear.
Cruise Inclusive: Crew, fuel, sodas, water, bluetooth speaker, paddle boards & lily pad.
What to Bring: Drinks, picnic basket, cooler with ice (not heavy, please!), sunscreen and towels!
Capacity: 6 guests per boat; 12 guest on our 2 Boat Raft-up Parties (Call before Booking).
Sail-E-Bration Package: Red carpet entrance, balloons, banners and more! (Call to order).
Please Review: Booking/Reschedule/Cancellation/Refund Policy - Safety Policy - Weather Policy - Motion Sickness Policy - Smoking/Lighters Policy - Alcohol/Food Policy - Bathroom/Down-Below Policy - Black-Soled Shoes Policy - FAQs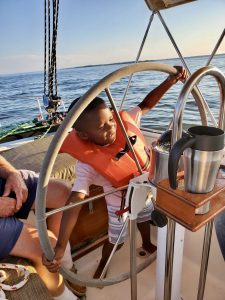 2022 Summer Prices: Half-Day
Click for itineraries and details for our Half-Day Morning, Afternoon and Sunset options; Full-Day cruises,; Morning Fishing Trips (Boon Online). For 12-Guest/2-Boat Parties and overnight B & B (Call to Book).
Afternoon - Sunset

Apr, Sept, Oct

Afternoon - Sunset

May-Aug
6% MD sales tax will be added at checkout.