One-Of-A-Kind
Sail + Powerboat Experience.
Daily Cruises, Mon - Sun 9am - 9pm
Description: Your sail and powerboats leave port in close proximity / talking distance. We cruise the South River, then boats raft-up at anchor and become one unit. While at anchor enjoy paddle boarding, music, dining and partying! Guests then return to dock on alternate boat to have experiences the other group enjoyed.
What's included: Appetizers, sodas, waters, 4 paddle boards, bluetooth speakers, crew, fuel
What to bring: Byob! Picnic basket, cooler, sunscreen & towel
Capacity: 12 - 16 guests max. 6 per boat. Raft-up at anchor to become 1 party!
Boat decor? Red carpet entrance, champagne, banner, balloons & more! Add decor to your package when booking here.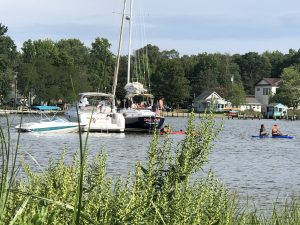 Charter Duration (including cruise & anchor time):
Choose Morning 9am - 12pm / Afternoon 1pm - 5pm / Sunset 6pm - 9pm
3 hr minimum: Begins 6pm and finishes approximately 8:50pm
Additional hour: Weekday - $125.00/hr & Weekends - $150/hr per boat
Full day packages available, learn more.
Book this package, see availability and prices here.