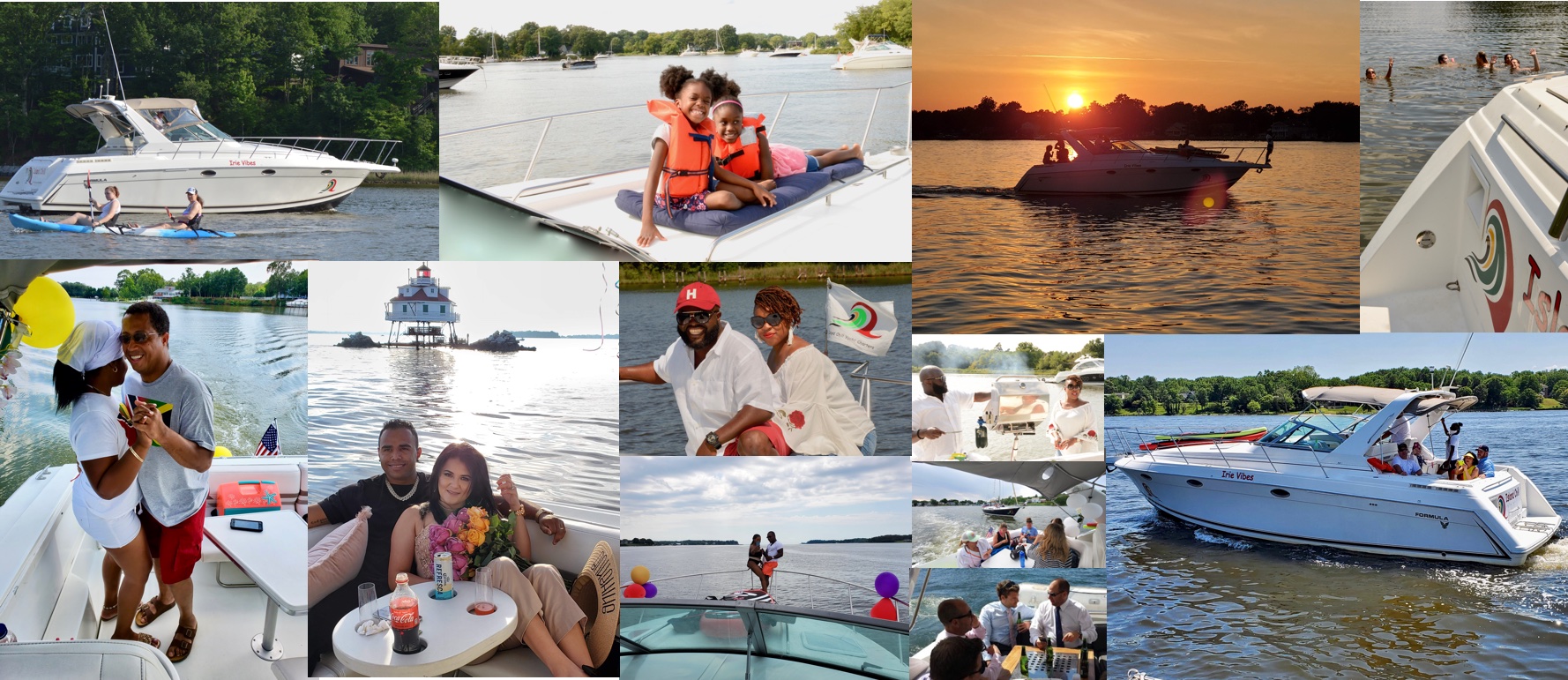 Island Chill: Irie Vibes
Irie Vibes is our flag-ship powerboat and gets her name from the Jamaican Patois word: Irie - 'Everything is Alright and Wonderfull!'. She is a high-performance Thunderbird Formula-34 PC cruiser, powered by two 330-horsepower Mercruiser engines (basically 2 Corvette engines: 'Malcolm' and 'Angus'), with brand-new 2021 Bravo III sterndrives and counter-rotating propellers. Irie Vibes comes with Formula's renowned reputation for cruising luxury with several key upgrades. Of course, we carry all the U.S. Coast Guard safety equipment - never needed it yet!
On deck, our stern cockpit area is covered by a large Bimini shade canvas. The tables and comfortable seating can be reconfigured for dining, swimming, (dancing!) or open partying for maximum comfort and entertainment while enjoying the South River and Chesapeake Bay. There's space for your coolers, of course. Feel free to relocate to the sunny, breezy bow while cruising at lower speeds - kids wear life-jackets and optional tether for safety. The views and feelings of 'Relaxing Exhilaration' up-front are memorable! We also carry two 2-person paddle boards, a lily pad by request, noodles and other swim toys to enjoy at anchor from our large swim-platform off the stern.
Below deck, is a small refrigerator and freezer, stove and microwave, as well as a cooling air conditioner that can be powered at anchor by our generator on all day charters, if needed. There are six sleeping births - but only for use on overnight charters.
We are very proud of Irie Vibes and the service and fun she has given all our guests - please help us take care of her.
Cruise Inclusive: Crew, fuel, bluetooth speaker, paddle boards & lily pad.
What to Bring: Drinks, picnic basket, cooler with ice (not heavy, please!), sunscreen and towels!
Capacity: 6 guests per boat; 12 guest on our 2 Boat Raft-up Parties.
Sail-E-Bration Package: Red carpet entrance, balloons/flowers, banners and more! (Add when booking or Call to order).
Please Review: Booking/Reschedule/Cancellation/Refund Policy - Safety Policy - Weather Policy - Motion Sickness Policy - Smoking/Lighters Policy - Alcohol/Food Policy - Bathroom/Down-Below Policy- Black-Soled Shoes Policy - FAQs
Prices
ONE-BOAT: Half- and Full-Day (Up to 6 Guests):
Afternoon - Sunset

Apr, Sept, Oct

Afternoon - Sunset

May-Aug
FULL-DAY: One-Boat (Up to 6 Guests) and 2-Boats (Up to 12 Guests):
2-BOAT: Half- and-Full Day (Up to 12 Guests):
MEMORIAL DAY WEEKEND: Friday May 28th – Sunday May 30th
FATHER'S DAY: June 19th
INDEPENDENCE DAY: July 4TH
LABOR DAY WEEKEND: Friday September 2nd – Monday September 5th