Chesapeake Storyteller Cruises 
Island Chill Yacht Charters is proud to continue our involvement as a Maryland Chesapeake Bay Storyteller! This Program was established in 2020 by the Maryland Department of Tourism and the National Park Service, and gave us extensive training to present a comprehensive and integrated story of the Chesapeake Bay. It's a perfect experience for children and families – especially those from out-of-town; even groups of adults love to hear the fascinating stories we have collected about the Chesapeake! Simply chose your preferred powerboat or sailboat cruise, and send us an email of your interest in us folding the Chesapeake Storyteller experience into your booking. Further, let us know what particularly interests you (history, natural history, geography) and we will integrate them into your journey accordingly.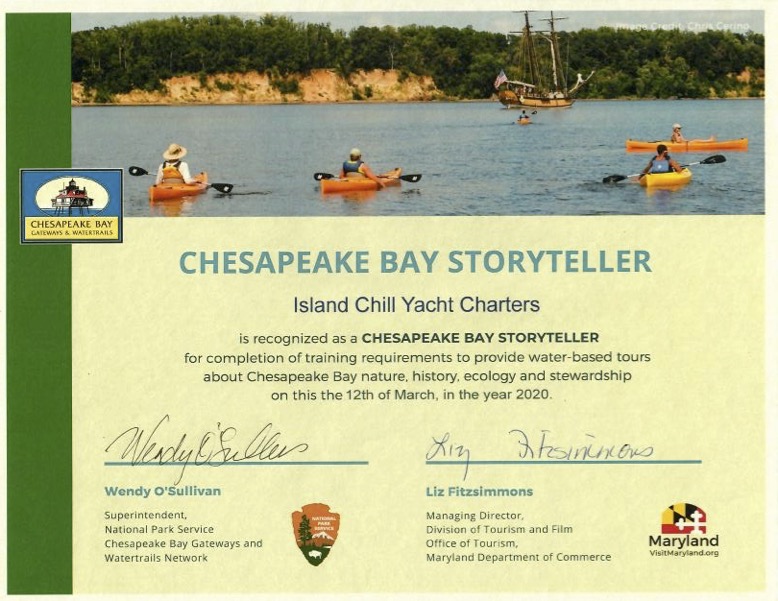 Check out our featured video c/o our friends at CBS station, WJZ in Baltimore:
A little about the Chesapeake Bay: Formed thousands of years ago when sea levels were much lower than they are today from the countless rivers that flowed from the Appalachian Mountains, and the impact crater of an asteroid 35 million years ago at the southern end of the Bay, the Chesapeake Bay is now the largest river estuary in the United States and the third largest in the world. Yet it averages only 21-feet deep! It's a multi-billion dollar waterway of fishermen and oystermen, cargo vessels and cruise ships in and out of Baltimore and the rest of the world, as well as a vast playground frequented by people like you and me who love the boating lifestyle on powerboats, sailboats, skipjacks, canoes and kayaks, and most recently paragliders.
Aboard your cruise, there's a chance you'll see some of our wildlife residents and visitors: from bald eagles and ospreys, duck and goose species, otters, musk rats, foxes and deer, as well as game fish like striped bass, flounder and sea trout – plus our world famous Chesapeake oysters and blue crabs. We occasionally see bottlenose dolphin pods hunting schools of fish too. We know quiet anchorages where the wildlife comes to you!
Our Bay is rich in history too, from the native American populations who pioneered hunting, fishing and agriculture over the past 11,000 years, to our forbearers who built this nation. You'll hear the names of Capt. John Smith, Lord Calvert, Harriett Tubman, Rachel Carson, Capt. Eldridge Meredith, and relive the American Revolutionary War, The Treaty of Paris of 1784, the War of 1812 and the Star Spangled Banner of Fort McHenry, the Oyster Wars (1865-1959), the Blue Angels and hear histories of our magnificent Chesapeake Bay Lighthouses, shipwrecks - and even a few pirates.
We know our stuff and want to show it all to you!
.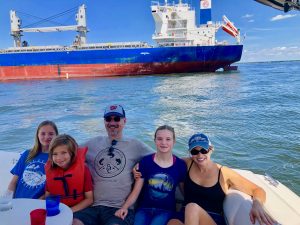 Cruise Description & Itinerary: 
Irie Vibes cruises down the gorgeous South River, to head northeast to the Thomas Point Lighthouse. We'll get some great photos of this famous Chesapeake screw-pile lighthouse. On our longer charters, we'll head over to the Bloody Point Lighthouse (caisson structure) at the southern-most tip of Kent Island. It's really shallow by the lighthouse, but the deepest part of the Chesapeake Bay is only a few hundred yards away - 'The Hole', at 174 feet deep.  Next, we'll turn north to cruise along side the large ship Channel Markers (course of the ancient Susquehanna River valley) where Ocean-going vessels, barges and tugboats and Cruise Ships zoom along and anchor nearby. We'll get creat views as we pass under the Chesapeake Bay Bridge on our way to view the Sandy Point Lighthouse - with views of the Baltimore Harbor Light. We'll then return to port.
Cruise Inclusive:

Crew, fuel, sodas, water, bluetooth speaker, paddle boards & lily pad.

What to Bring:

Drinks, picnic basket, cooler with ice (not heavy, please!), sunscreen and towels!

Capacity: 

6 guests per boat.

Sail-E-Bration Package:

Red carpet entrance, balloons, banners and more! (Call to order).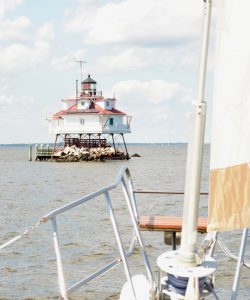 Bloody Point Bar Lighthouse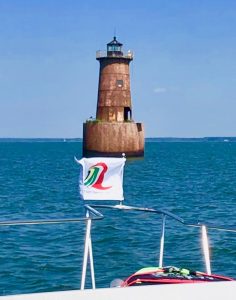 Sandy Point Shoal Lighthouse