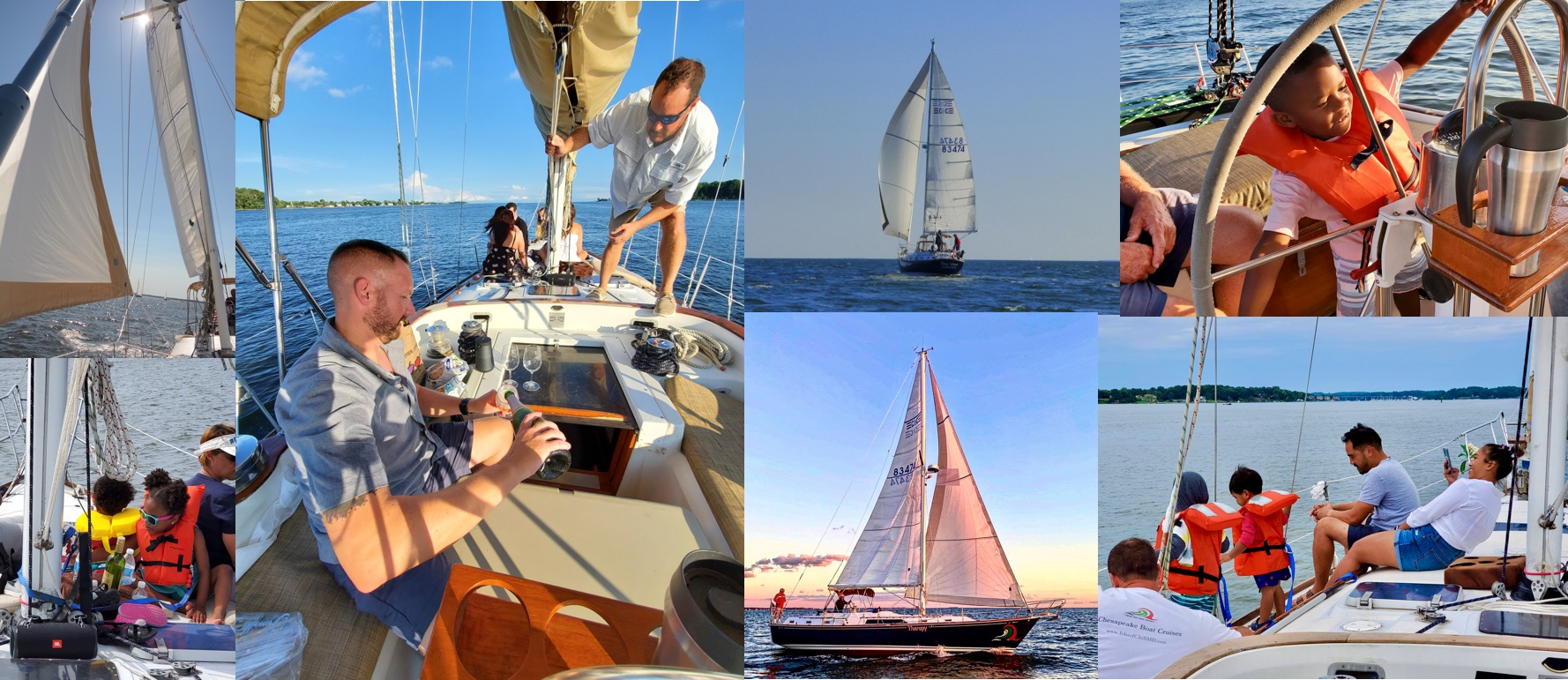 Island Chill: Therapy
Therapy is a 43-ft long C&C Landfall cruiser, built in Rhode Island, with a large comfortable center cockpit. She has plenty of room to sit on the foredeck, around the mast area, as well as on the stern. She has 777-sq ft of sail in her Main and Jib (furling) with a 55 ft mast which provides excellent power to keep her moving even in light winds. Check out her performance when the winds are up in the video below! The boat weighs weighs 13 tons with over 6 tons in the keel to create excellent stability for guests moving around deck. Feel free to put on lifejackets and tethers if you are a little nervous. All children 13-years old and under must wear life jackets at all times.
Cruise Inclusive: Crew, fuel, sodas, water, bluetooth speaker, paddle boards & lily pad.
What to Bring: Drinks, picnic basket, cooler with ice (not heavy, please!), sunscreen and towels!
Capacity: 6 guests per boat; 12 guest on our 2 Boat Raft-up Parties (Call before Booking).
Sail-E-Bration Package: Red carpet entrance, balloons, banners and more! (Call to order).
Please Review: Booking/Reschedule/Cancellation/Refund Policy - Safety Policy - Weather Policy - Motion Sickness Policy - Smoking/Lighters Policy - Alcohol/Food Policy - Bathroom/Down-Below Policy- Black-Soled Shoes Policy - FAQs
The Flags We Fly
We are often asked about the flags we fly aboard Therapy.
On our stern we fly the Stars and Stripes of the United States of America and our Island Chill Yacht Charters flag below.
On our starboard halyard, we hoist the Stars and Stripes of the United States of America and the State flag of Maryland to honor the men and women who fought for our freedoms and preserve our democracy to give us a home, safety and opportunity to develop the next four flags: the signal flags for Island Chill Yacht Charters: 'I - C - Y - C' . Out of respect for our heritages, we unfurl the flag of the British Navy (White Ensign) and the British Merchant Marine (Red Ensign); the Canadian flag; as well as the Jamaican Coast Guard and Navy. We have added the flag of the Royal National Lifeboat Institution of Great Britain in honor of the men and women who volunteered to rescue those at sea in need of rescue, and Lawrence-Perry's, 'Never Give Up the Ship'. We also fly the County flag of Lancashire, the home of the East Lancashire Regiment, who earned five Victoria Crosses in service.
At times, on our port halyard, we fly the National Flags of Jamaica and Great Britain; and the flag of the United States Virgin Islands, Virginia, Illinois and Peru; in respect to the origins of our captains and crew.
You are welcome to donate a 12" X 18" toggle-and-rope flag of honor to our collection, which we will fly according to your instruction of appropriate times.
Prices
ONE-BOAT: Half- and Full-Day (Up to 6 Guests):
FULL-DAY: One-Boat (Up to 6 Guests) and 2-Boats (Up to 12 Guests):
2-BOAT: Half- and-Full Day (Up to 12 Guests):
MEMORIAL DAY WEEKEND: Friday May 28th – Sunday May 30th
FATHER'S DAY: June 19th
INDEPENDENCE DAY: July 4TH
LABOR DAY WEEKEND: Friday September 2nd – Monday September 5th