Daily Spectacular Maryland Sunsets Cruises!
Allow our crew to take you to the best view in town. Bask in Maryland's spectacular sunsets or travel to a seemingly out-of-this-world magical experience on our full moonlight cruise for memories that will last a lifetime!
Daily romantic Sunset and monthly Full Moon cruises depart from Londontowne Marina to sail the South River and into Chesapeake Bay by Thomas Point Lighthouse. Cruises are approximately 3 hours duration (from 5:30 - 8:30 p.m.). We can accommodate up to 6 guests. Choose Therapy 43' sailboat sunset cruise Or Irie Vibes 34' powerboat sunset cruise.
♦Crew at your service ♦Free snacks & beverages  ♦BYOB ♦Fuel included
_________________________________________________
Sunset Cruises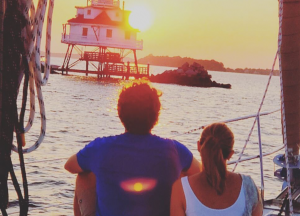 Therapy 3hr Sailboat Cruise 
        $550 plus 6% MD sales tax
Sail the South River
Visit the popular Thomas Point Lighthouse
Romantic cruise home into the sunset
Return to port rejuvenated!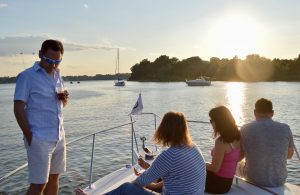 Irie Vibes 3hr Powerboat Cruise
      $650 plus 6% MD sales tax
Relax & cruise the South River
Visit wildlife tributary
Watch Sunset at anchor in private Harness Creek
Return to port inspired!
_________________________________________________
Full Moon Charters
Boat & Breakfast Getaway!
After a gorgeous sunset sail, many of our guests add a comfortable and private place to rest their heads and wake up to a delicious gourmet breakfast. Learn more about our Boat-and-Breakfast cruise package here.