Our Boats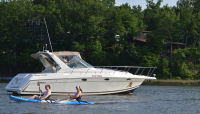 34' Formula Cruiser Motor Yacht - Rates from $150/h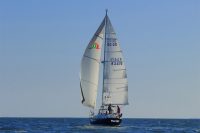 43' Center-Cockpit Sailboat - Rates starting at $125/h
20' Wellcraft Bow-Rider - Rates as low as $125/h

'To Bring People Together to Create Memories,
Strengthen Friendships & Family Connections'
We host exclusive sail & powerboat charters on the Chesapeake Bay. Catering to families & visitors seeking a private on the water experiences - hosted by our USCG-Licensed Captain & Cruise Director ensuring a truly memorable charter!
EXCLUSIVE PRIVATE CRUISE:
Celebrate With Us! Birthdays, Anniversary, Bachelorette Party...
Specialty Cruises
FREE Island Chill meal (view menu)
Visit Annapolis Historic Landmarks (bridges & lighthouses...) (see destinations)
Fun watersport activities: Kayaking, waterskiing & paddleboarding...
Overnight Boat & Breakfast
Corporate Events: Team Building, Business meetings, Client's reward... learn more
Venue: Music Video, Photoshoots, Commercials... learn more
And lots more...
Client satisfaction
Customers experience is very important to us. Check out what our recent customers say.
"Happy spouse! tremendous feeling when I proposed to my fiancé on her birthday on Island Chill.  They really treated us to a great experience and were very accommodating. We can't complain, my fiancé and soon to be wife said 'best time she had in a long time'. Been to Jamaica once for vacation in Montego Bay and this is how I remembered the hospitality.
"Island Chill was awesome and extremely accommodating! rented the Sailboat and went on the Bay with my hubby and some friends. So much fun! Everything about the sail was amazing & great customer service! Thanks for such a fun day!!!"
I have never been on a yacht and Island Chill makes me feel so comfortable. Great relaxing settings for me and the kids. Great hospitality will definitely come again next year!
"Island Chill Yacht Charters is a little mini-vacation cruise right in our own backyard here in Annapolis. Stacii & Sheree, are lovely crew that made it extra special with hospitality!"
See Island Chill in Action