A fun, edutaining and interactive cruise on Island Chill
 is perfect for groups of up to 6
students on either Therapy 43' sailboat or Irie Vibes 34' powerboat.
Graduation
School Leaving
Field Trips
All ages are welcomed!  We have different programs set up where the students can:
help raise the sails
steer the boat
learn about the Chesapeake, and
understand protocols and terms used by boaters
Learn to sail
Enjoy non-stop entertainment on your personalized yacht charter experience. Please try our delectable meals from our catered menu. Your Island Chill sales agent will help you choose the perfect accompaniment for you and your friends.
Charter Inclusive:
♦ Captain & Crew at your service ♦ Watersport Equipment  ♦ Snacks & Beverages view menu
'Took my daughter and her friends for her graduation... BEST TIME EVER!!! ...!' Read reviews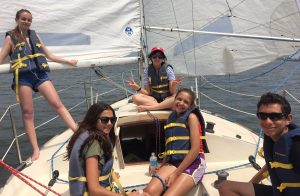 Our Yachts
Your crewed charter experience begins with your desired yacht. Each gives you a safe and exhilarating ride, comfortable spaces, and modern features to give you the best onboard experience. Click charter below and enjoy cruising with us!
_________________________________________
Click on booking link below and allow our crew to take you and your guests on a private Chesapeake Bay cruise to remember!